Picking the right paint for your space
October 13, 2015
---
I recently had a request from my painter.  She had a client that was wishing to move her home in a forward direction (with colour) and had chosen a deep yellow (while her current walls were a bright yellow).  When my painter saw that, she suggested I help with the process.  She told her client that I knew how to pick the right paint for every space.  When I arrived, I had a quick tour of the entire home.  My painter did not lie.  The home currently had very bright yellow walls throughout most of the home with warm hardwood and slate floor tile that looked very similar to this tile below.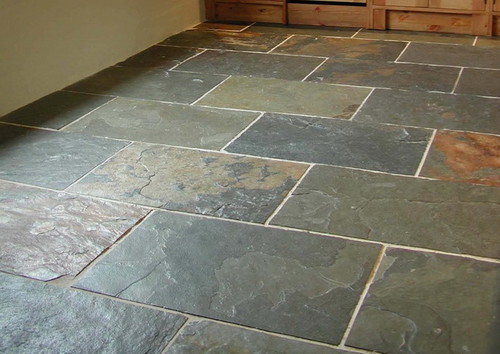 The client's  wish was to get the entire home painted. They had already purchased some new furniture (blue/gray) it was evident they were heading down the blue/gray colour road with decorating.  My client kept asking me show her greys.
"I want to be current with the greys."
Picking the Right Paint for Your Space:
Too Green
Due to her fixed element (the tile floor specifically), I started with green grey undertone colours.  We looked at
Benjamin Moore Revere Pewter
We went lighter and tried
We went darker and tried
And while all of these green gray undertone paint colours looked great with the floor tile, as soon as we moved into the living room space where the furniture was (including all of their great, colourful artwork on the walls), it was evident right away that a green gray undertone paint was not going to work.  Too green!
My client looked frustrated and really wanted to look at some 'real grays'.  Remember what she said?
"I want to be current with the greys."
Picking the Right Paint for Your Space:
Too Blue
I pulled out some blue gray undertone paint samples (that I knew would not look great) in the entire space.  This home was a definite cream foundation palette and blue grays don't play nice in spaces that are creamy.  Just to prove how bad they would look, I pulled out a lighter blue gray colour:
Benjamin Moore Gray Owl
That was too light and blue (cool) so we tried
Benjamin Moore Coventry Gray
This was too dark and again, too blue (cool).
It was evident right away to my client that while she thought she wanted those colours on her wall, they were simply not going to work.  While these colours did look great with the furniture and the art, it did not look great against the kitchen cabinets (that also had very brown subway tile) or look great in other areas of her home.  Remember, we were looking for one colour (due to the layout of the home).
It was at this point where I had 'the talk'.  It went something like this:
"I know you want to be 'current' and move your home to the gray trend however, your fixed elements like your kitchen cabinetry, brown backsplash, stone counters,  warm hardwood and tile floor do not play nice with the cool blue trend you are wishing to move to.  You are moving in a path totally opposite to what your fixed elements are dictating."
Picking the Right Paint for Your Space:
Just Right
It was then I made the suggestion…the neutral suggestion.  I sometimes have to prepare myself for my clients' reaction.  Neutral?  Neutral?  Did you say neutral?  How boring!  Here's how it went:
 "Why don't we try a more 'neutral' colour that will allow your fixed elements to work and allow your artwork and furniture to shine?"
I then suggested a neutral wall colour:
Benjamin Moore's Natural Cream is considered a Greige (a mixture of beige and grey).  On it's own, it doesn't look very spectacular however it is going to allow all of the colourful artwork to just shine and work with all of the fixed elements in the space.
See how the black picture frames just pop?  You might also be able to see that it really does have a gray look to it. We tried this colour in every space and it worked!
Picking the Right Paint for Your Space:
And they lived happily ever after…
Soon after I left my client's home, my painter called me to tell me that my client is SO excited about the paint choice. She thanked me for picking the right paint for their space.  Although the colour wasn't what my client thought I would choose (she would have never guessed I would have chosen a neutral), it is one that is going to work with her fixed elements as well as the direction they are moving forward with their home.  All of her furniture and decorating will be around the gray trend and her wall colour is going to allow everything to work!
Wishing to get your paint colour right the first time?  Stop the guess work when it comes to making paint selections.
RELATED POSTS
Painting Wood To Transform This Space